I am married to a very simple man. Today I was reminded of this fact.
For Dusan's birthday, all he wanted was a "Super Burrito" from his favorite Mexican food place in South Whittier. Simple request, right? Let me give you a little background on this food establishment.
The last time Dusan took me here, was over ten years ago (circa 1999), we were only dating. He had hyped it up. He couldn't wait to take me there. Upon parking our car the "Grade C" hanging in the window from the health department had me stopping dead in my tracks. It didn't help that there was heavy police activity in the store next door. After that first encounter I had vowed never to return. Whenever he brought it up, I would reply with "how can you be hungry for floor sweep wrapped in a tortilla?"...
Jump forward to 2010...today to be exact.
Fulfilling simple husband's only wish was going to take some inner strength. I can be a team player. I invited his parents to meet us there and even braved bringing the kids. Much to my surprise the health code rating has drastically improved since our (my) last visit. In true birthday fashion, I asked Dusan to stand in front of the restaurant for a picture...
Oops...sorry man with cart full of personal belongings... we didn't mean to step in front of your journey...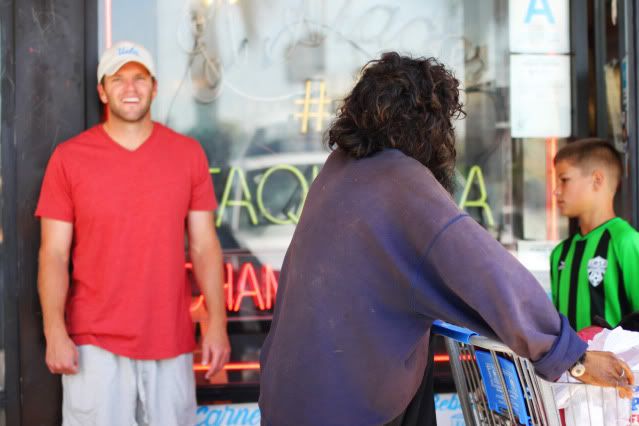 This man and his overgrown (Guiness Book of World Records- worthy) toe nails was kind enough to join us in the dining area of the restaurant for the duration of our lunch.
A little video game playing for old time's sake...
What every man dreams of... a super burrito with a candle in it.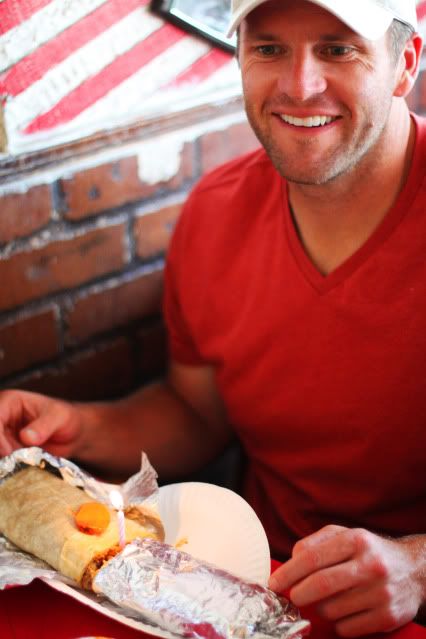 Thank you for joining us Grammy and Grandpa.
We survived.
Note to self: When using the restroom in an establishment such as this one, don't get insulted that lots of people have inscribed many vulgar words about "my momma". They couldn't possible be talking about mine. Besides they didn't even get her phone number right!