To fully grasp this post, you must understand Davin. Middle child. Easy going. Funny. Creative. Not a stressful bone in his body. And patient. Very patient.
After 11 nights of having his 2nd lost tooth under his pillow, she finally came. The Tooth Fairy, that is. Every morning during those past 11 nights, Davin would wake up and check.
Nope. Not today.
Some of his reasonings as to getting skipped by her were:
"Wow! She is really busy."
"Maybe I shouldn't sleep with the puppy, maybe she is afraid of them."
"I'll bet she is allergic to dogs"
and my personal favorite: "maybe her money is tight this month" (hmmmm can't possibly imagine where he would get that idea :)
After 11 patient nights...this pink envelope was under his pillow this morning: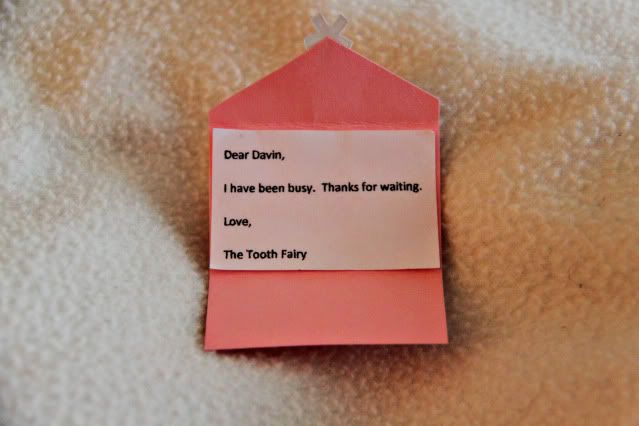 Some incentive which had accrued interest was attached to the envelope
.
I think he is okay with the outcome.
I love that he is a believer. A true believer. and it reminded me how 8 is not that big at all.